Back to Set up your mobile phone
Activate your mobile phone
You need to activate your mobile phone before using it for the first time and also when you've restored the factory default settings. You need to insert your SIM and turn on your mobile phone before using it for the first time. You also need to install iTunes on your computer. You can download the program from www.itunes.com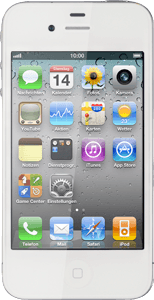 Key in your PIN and press
OK
.
If your mobile phone rejects your SIM:
Contact your distributor or service provider where you bought your mobile phone.
2.

Connect mobile phone and computer
Start the program
iTunes
on your computer.
Connect the data cable to the
phone socket
and to your computer's USB port.
3.

Activate your mobile phone
If it's the first time you activate your mobile phone:
Follow the instructions on the screen to log on using your Apple ID and activate your mobile phone.
If you've used an iPhone before and have backed up the phone memory using iTunes, you will, during the activation process, have a chance to restore an iTunes backup.
When the activation is complete, the screen shows that your mobile phone is ready for use.