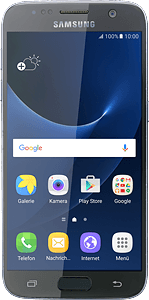 Send to customer
You're connected to a WLAN but you're not logged on
Possible cause 2 of 6:
Some WLANs require that you log on.
What you need to do:
You can use your mobile phone's browser to access the Internet. If you can't use the Internet browser as soon as you've inserted your SIM, you need to set up your mobile phone for Internet.
2.

Enter a web address

Press

the address bar

.
Key in the address of the required website and press

Go

.
3.

Add the current website to your bookmarks

Press

Bookmarks

.
Press

ADD

.
Edit the name of the bookmark and press

SAVE

.
Press
.
4.

Go to a bookmark

Press

Bookmarks

.
Press

the required bookmark

.
5.

Return to the Home screen

Press
to end the session and return to the Home screen.
Did this solve the problem?
Yes
No