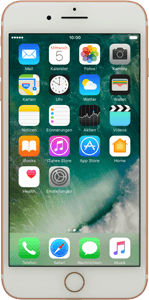 Send to customer
WLAN isn't activated on your mobile phone
Possible cause 5 of 6:
If WLAN is deactivated on your mobile phone, you can't access the Internet using a WLAN.
What you need to do:
You can use WLAN as an alternative to the mobile network to connect to the Internet. Your mobile phone doesn't use mobile data when connected to a WLAN.
1.

Find "Wi-Fi"

Press

Settings

.
Press

Wi-Fi

.
2.

Activate WLAN

Press

the indicator next to "Wi-Fi"

until the function is activated.
3.

Connect to a WLAN

A list of WLANs within range is displayed.
Press

the required WLAN

.
Follow the instructions on the display to key in the security settings and press

Join

.
4.

Return to the Home screen

Press
to end the session and return to the Home screen.
Did this solve the problem?
Yes
No