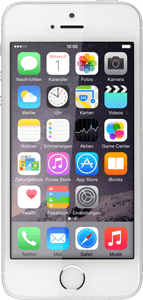 Apple iPhone 5s
Send to customer
How to activate or deactivate mobile data
You can limit your data usage by deactivating mobile data. No connection to the Internet via the mobile network can then be established. You can still use WLAN even though mobile data is deactivated.
1.

Find "Mobile"

Press

Settings

.
Press

Mobile

.
2.

Activate or deactivate mobile data

Press

the indicator next to "Mobile Data"

to activate or deactivate the function.
3.

Return to the Home screen

Press
to end the session and return to the Home screen.